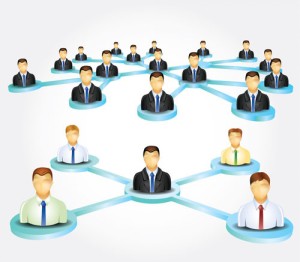 Today's employers have an incredible advantage over those of the past thanks to the number of modern candidate resources available. Traditionally, employers were limited to word of mouth and newspaper classifieds in their searches for top talent. Now with millions of users logging in daily, the internet has made significant changes to the candidate search that have provided major benefits to companies big and small. A Utah company can now connect with top talent from around the globe with just a click a mouse. This increased connectivity and access to information provided by online sources has made the process of finding the right candidate for the job and easier than ever.
Employment Websites
One of the most beneficial additions that the internet has made to the processes of filling positions is employment websites. These sites offer an effective and accessible platform for employers to post openings. Members of the site who are looking for a job can also post their résumés and list their skills and education on their profiles so that their information is easily accessible for potential employers. Some sites have also added a number of interesting and helpful features such as email notifications of when a job is posted that fits a seeker's qualifications and networking opportunities like groups and connections. These significantly increase the chance of qualified candidates finding your opening.
What they can do for you
Employers find major benefits during their searches for the right employees when they use employment websites. The sites are able to reach job seekers from across the globe with their openings to increase the number of applicants and create a group of the most qualified candidates. They also help employers find necessary information about  candidates without the hassle of a long search or waiting for the interview. This is because they allow space on the candidates' profiles for employee references, resumes and lists of interests and hobbies. This information can help employers find qualified candidates who may not have found their job postings otherwise. Employment sites also make it easier for employers to find candidates who have piqued their interest. These online sources allow them to conduct a simple search to get in touch with candidates who are highly recommended by other companies or whose work they have seen and liked in related fields.
What to do if your Online Search isn't Effective
While employment websites are a great place to start your search, they're not always a sure fire way to find great candidates when you go at it alone. If you've exhausted your efforts through an online search and still can't seem to find the results you were hoping for, help is just a phone call away. A skilled recruiter is able to effectively combine traditional search methods with the strategic use of employment websites to increase the depth and breadth of your search. Employment websites are just one of the many tools search and recruitment firms master and utilize to fill important positions at their clients' companies.
Getting Started
Considering the many benefits they offer, employment websites are an incredibly useful and almost necessary tool in filling open positions at your company. There are a number of reputable employment websites online today, but it is important to be certain that they can provide the services you need before becoming a member. If you've conducted your online search and still can't seem to find the right candidate on your own, we're happy to help!
Here at Navitrust, our team of recruiters works around the clock with the goal of landing the ideal candidate for every client. Our Utah based firm is able to find top talent for companies throughout the U.S. as we have a wide network of qualified professionals and deep-rooted industry connections with national reach. For more information regarding our search and recruitment services in your area, give us a call at 800-622-2085. You may also request a free quote for your search by visiting our contact page.